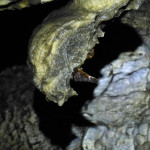 Tom Kline has been bugging me for a long time to go caving with him…. so I finally agreed. We left for northern California after work on Wednesday 7/3…and rolled in to the trailhead at about 1:00am Thursday morning, where we crashed till about 7:00am. We hit the trail at about 8:30am. The hike into camp is a nice 5+ mile hike through the forest until you get to the switchbacks, which are maintained for horse packs…complete with 12″ rise stairs that gain most of the 2000′ elevation into camp. Camp is where this trail intersects with the PCT. We saw a lot of hiker hiking the PCT, although most were hiking north to south…probably just hiking a segment.
After getting to, and setting up camp we decided to climb toward Black Marble Mountain, the highest point in the area. Once we got to the base, I took the east ridge scramble, and Tom took the west side. It didn't take long to scramble to the summit, although there were a few 4th class sections along the way. Great views from the summit, but not from around here, I didn't know what i was looking at, although I did manage to see the top of Shasta on the horizon.
Friday morning (7/5) we packed the gear needed for the days cave trip. The cave Tom decided on was only about a mile away. We dropped in at about 11:30am, and came back out at about 7:00pm…WOW!, what a trip!. Obviously one of the most important piece of gear…is a headlamp. In fact you should carry at least two of them, because without light down in the cave…no way to find your way. This cave started with two raps (drops), the first started with squeezing through a body sized slot while getting on rappel, then dropping about 65′ to a loose dirt slope, then scrambling down the slope to the next drop. The next drop is a is a clean 60′ rap to the cave bottom… Once on the floor of the main passage (cave), I could see this was going to be very interesting. Tom's been here before, so i was totally relying on him to go the right way. There were multiple passages leading away from the main passage. We explored a few of them. For the most part you could stand up, but a lot of times we'd find ourselves crawling or squeezing through slots, or between large chunks of marble to advance forward. There were large rooms the cavers call domes. Most of these domes have names…at least the ones that have been discovered. Some of these domes could be over 100′ high…hard to tell with just a headlamp. We passed a lot of cool formations caused by thousands of years of water erosion. In some parts the water carries calcium deposits and over time, builds these huge formations like scary sand castles.
It's really easy to loose time in a cave…and before we knew it, it was time to head back for the ascent, back up the rope. Having the right gear, and the practice session before the trip, made ascending the rope uneventful…  After being under ground for 7+ hours…it was good to be out. Everything I was wearing on the outside was covered with dirt and grime, including my backpack…which took a lot of abuse being pushed, pulled, and squeezed through slots…Fun stuff!
Saturday (7/6) we decided to stay above ground and scout out cave openings. We hiked over to the Wooley Creek area, where there was a known opening on an old hand done map Tom found. After a long search we did find the opening, although the hoe was small and would have to be dug out before dropping into…not today. We then hiked up to the marble rim and summited Little Black Marble Mountain, then scrambled over onto the upper karst, which is this huge marble field with cave opening all over the place. Next time I think I'd like to explore this area with a rope and gear, and check out the openings…to see if they go in far…some do, some don't…and some even connect with others.
Sunday (7/7) we pack up, walk out…and drive the 7-hour drive home…
All in all, it was a great trip. I won't trade caving for mountaineering, but I'll do caving again. A thanks goes to Tom for a great lead through the cave. Caves are no place to go without someone that's been there before. Not a good place to get lost.