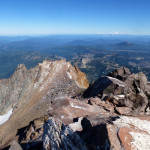 After the search for a Mazamas leader to lead this climb, Kevin Clark stepped forward. Three of the seven member team got their 16th peak on this climb…Congrat's!
We had a great team…no drama. The climb itself was very straight forward, and right now, before the snow starts falling again…this route can easily be solo'd…if you like that sort of thing.
A big thanks goes to Kevin Clark for agreeing to lead this climb, and to Michael for the great beta from the weekend before…that allowed us to leave the crampons, ice axe, and a couple of ropes at home.