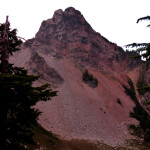 It's been since 2008 since the last time Ron and I attempted Mount Thomson…that trip we got off route, ran out of time, got the rope stuck and had to cut it with a rock…We learned a little bit on that trip. The forecast for this weekends was sunny and warm on Saturday, with rain moving in on Sunday noon time. We decided to huff it in, drop our overnight stuff off at Ridge Lake, then continue on to tag Thomson…and did just that. It was a long day 13-14 hours from truck to summit and back to camp…with a 2.5-hour walk out Sunday morning. Mount Thomson is a technical rock climb with 4-7 pitches…depending on how well you know the route. For us, I lost count at about 4… We got off route a couple of times, but managed to push through it. The toughest grade is supposed to be only 5.6, but we managed to find a 5.8 with run-out….that was a bit scary on the sharp end. The descent is a 3rd-4th class scramble down the back side….and a long down hill boulder hop. Once back at camp, we filtered water, chugged water, and downed a couple of beers we hauled in.
Sunday morning we had a leisurely hike out. Stopped at the visitor center there at Snoqualmie Pass for a good coffee, then drove back to Issaqah for lunch at the Issaquah Brewhouse where I had a great chili dog and a couple of stouts.
Then the 3.5 hour drive home…got me there by 5:00pm
Good climb, great weekend!