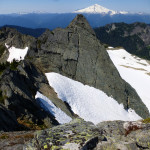 Despite what the weather sites were saying….we decided to go anyway. Our plans were to tag Mount Watson (6220') on our way to climb Bacon Peak, a 7061' ice cap. This was going to be a three (easy) day hike.
Brian, myself, along with Steve and his two teenage boys, Nick and Alec, left the trailhead at about 9:30 Friday morning. After about 1.5 miles, we left the trail onto a climbers trail that heads SE up to Mt Watson's NW ridge. The trail was steep, scrambly…and very brushy. Once we hit about 5000' we came out to a meadow area just above Anderson Lakes. Then continued up in a NNE direction gaining the north slopes of Mount Watson. Once at the glacier, Brian and I put our crampons on, and Steve and his son's hiked down to Anderson Lake to camp for the night. Brian and I traversed the short section of glacier to the base of Mt Watson, dropped our packs and headed up to the col between the middle peak, and the western peak…the middle peak being the tallest. Good thing, because the western peak looked scary. After a great scramble up to the summit, we dropped back down to our packs, and continued east across the glacier…if you could call it a glacier. It has receded so much, there isn't much left. Soon we were on solid slabs, and large boulders, and huge piles of glacier ground gravel. After about 1.5 miles of traversing up and down gullies, trying to stay around 5000', we arrived at the 5400' pass through Watson's east ridge. Since this was an exploratory trip for both of us, we did a little unnecessary scrambling, finding ourselves in a couple predicaments…but made it through just fine. Route finding is a bit tricky over on this side as there is more brush to whack, and very little route beta available. All we knew is we were looking for another pass in the ridge at about 4900'. After dropping, then dropping some more we decided to scramble up a short 4th class section that put us up on another side of a rocky butte. We crossed another boulder field, scrambled up another short scary section…wrapped around a hillside and finally found the 4900' camp. It was a great spot, with an awesome view of the next day's route…we thought. After setting our tents up, we ate dinner and turned in. There really was no relaxing because the bugs were horrible. The only escape was to get inside your tent…so that's what we did.
Morning came, but not before the thunder and lightning show…followed by the wind and rain. We decided to NOT try for Bacon considering the weather conditions and the fact it was now raining on the steep vegetated slope we were planning to descend. Instead, we packed up our wet camp and headed out, back to the trailhead.
The hike out went much quicker, knowing the right way to go from the day before. The bugs were a constant battle this whole trip…I will definitely need to replenish my bug juice before heading out again.
All things considered, this was a good trip. Next time I try for Bacon Peak, I'll do it a little different, now that I've seen what's out there.