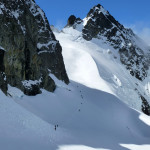 This was my second successful Mount Shuksan climb. First time on this route… I read all sorts of horrible stories in regards to the bushwhacking this approach has, but I found it less hellish than some of the thrashing I do down here on the western slopes of the Oregon Cascades…and the coastal range. Although the one difference, bushwhacking has it's challenges especially with a 45# pack on your back…not to mention the wands, poles, pickets, and anything else sticking up higher than the top of your pack.
I think the time stats went like this…about 4.5-hours from car to camp, 17-hours camp to camp, then 4-hours camp to car.
17-hours might seem like a long time, but considering we had the maximum allowed, 12-climbers, I think we did a pretty good job of getting all 12 to the summit, and back to camp before dark…barely. The route from camp (4960′) is fairly straight forward, heading in the direction of Winnies Slide, a short and steep slope. Then from there we headed up and over to the Hour Glass…up through the Hour Glass to the Sulphide Glacier, and then on to the summit pyramid. Once at the summit pyramid we located the main gully, which was filled with snow, and kicked our way up to the summit.
During this climb we had periods of rain, thick white-out fog, snow, and sun…mostly thick fog on climb day, and rain on the approach to camp. The descent back to camp turned into a long soupy trudge through wet snow.
I would definitely recommend this route to an experienced mountaineer…mainly because of the scenic aspect…and constant rope travel from camp to summit to camp. I would also recommend this route for early season and cold temps. Many of the slopes are steep and avy prone.