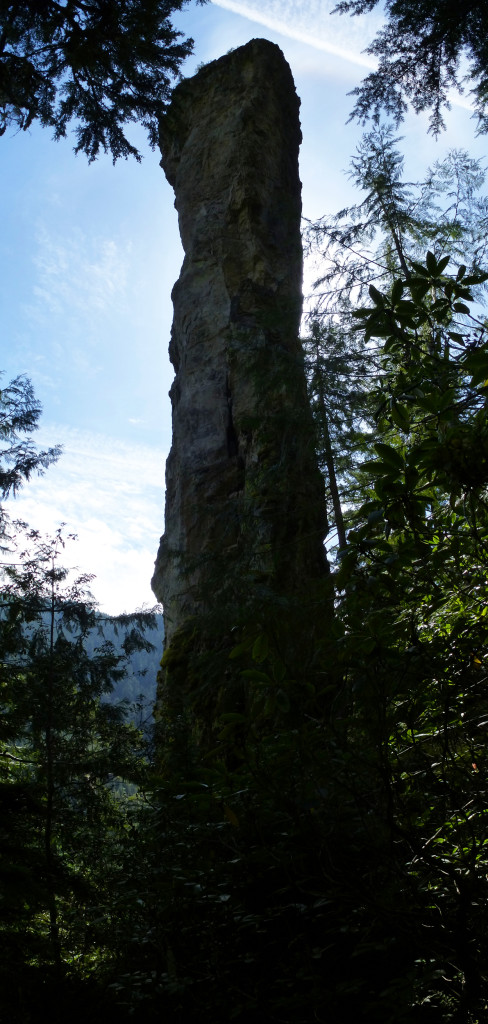 Wow! An incredible climb. Lots of work + scary as hell = Fun Shit! Pipe Rock is a 250' pinnacle located in the Canyon Creek drainage, which is part of the South Santiam drainage…near Sweet Home. Because of the lousy weekend weather forecast, we decided to attempt this on Friday…a good weather day.
I believe we left the vehicles at about 9:50am, and were at the base of Pipe Rock by 20 minutes and 400' gain later. My first impression…NO WAY! As I started to silently question our sanity, and hear Mark hmm and haw, I was already thinking of what else we could do other than this scary beast… Too late, Mark was already up half way on the first pitch. I guess we're doing this…UGH!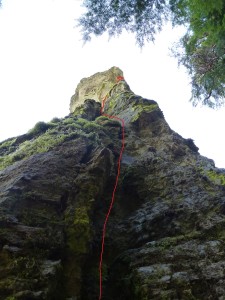 Pitch 1 is an 80' trad pitch, rated 5.8, that leads up to a large belay ledge and two bomber belay anchors. The ledge has barely enough room for three climbers.
Pitch two is a 130' mixed pitch. Rated 5.7 A2. A mixture of bolt ladder, aid climbing.
Mark led both pitches, and led them well. Natasha met us at the top of the first pitch, then decided today wasn't her day to go to the summit, and gracefully lowered to the ground and became the cheerleader of encouragement…and did it well. Me…I just followed along, throwing out swear words as I thrashed about in my aiders. Yikes! Scary stuff…
IMHO, I think Pipe Rock was scarier than Monkey Face.
Another great adventure climb. Thanks again to Mark Denyer for a great lead, and Natasha Denyer, for all the encouragement. I couldn't (wouldn't) have done this climb without both of you.