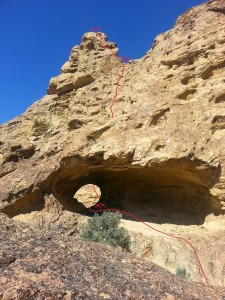 Another sunny warm weekend at Smith Rock. JJ, Jacqueline, Chris, and I met at the parking lot at 9:30am Saturday. Since JJ and Jacque hadn't been to Smith before, the Marsupials was the area to go…and of course, IMHO, the Cave Route is a perfect way to introduce them to Smith. A fun little adventure amongst some pretty cool rock formations.
After the Cave Route and Brogan Spire, Chris led a 5.10a and we all took a turn top roping it. After that we went around the corner and did Death of a Raven 5.8. Then it was off to Koala Rock for a fun climb up Round There 5.7. Terrebonne Depot for food & beer then back to Smith Campground for the night.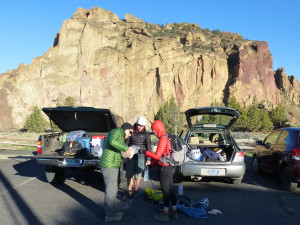 Sunday morning, had our coffee and breakfast…in that order, then met at the parking lot at about 7:00am. Getting an early start we were able to snag a spot at the Dihedrals, and climb a couple of routes there before heading over Asterisk Pass to a climb near Snake Rock, called Don't Tread On Me 5.8.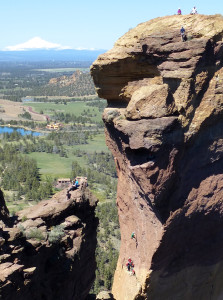 After that we were done with climbing so we decided to continue along the trail up and over Misery Ridge. We did stop at Monkey Face to watch several ascending and rappelling. I'm looking forward to attempting that climb…looks fun!!