We took a fun road trip way way down to the far southeast corner of Oregon. We decided to explore the Steens Mountain, and the Owyhee River area. Here's a few quick stats from the trip, along with some pics to browse through…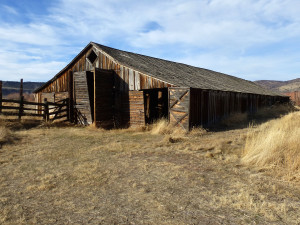 Day one and two, The Drive… We drove from Portland to Burns, then to Fields. By looking at Fields on a map, we thought it was much larger than the two pump gas station, store, and two unit hotel. Good thing one of the units was available. Nice place though…  On the way to Fields we drove as far as we could up the Steens Mountain Loop Road, but couldn't get any closer than 10-miles from the summit. Instead, after booking our room in Fields we hiked up Pike Creek for a few hours, and hit the Alvord hot springs on the way back.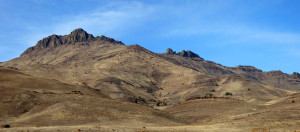 Day three, Some elevation…  Alvord Peak was a good option for the day. A nice hike with hardly a trail, more like just scrambling the slopes, rocks, and gully's, till you get to the top. We saw antelope and big horn sheep along the way. The descent scramble was fun, getting us back to the truck just as it was getting dark…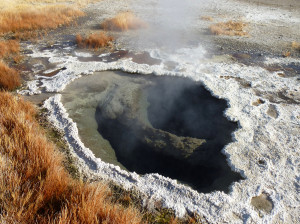 Day four, The move…  This is the day we moved from Fields, OR, to Jordon Valley, OR. Jordon Valley would be home for the next three night. Along the way we stopped at Borax Lake and hot springs. The hot springs are too hot to dip in, but it was fun to look at. The road took us along the eastern base of the Steens Mountains, so we had lots to look at. The rest of the drive was high desert rolling hills of sage. We did take a short side trip to a place just outside of Rome, OR. that the local call the Pillars of Rome. These formations are eroded into what looks like pillars. We pulled into Jordon Valley in time to be invited into the closed restaurant for a Thanksgiving dinner…very nice.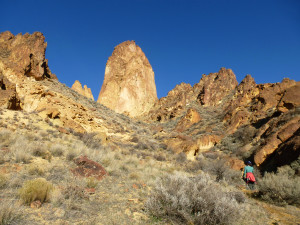 Day five, Rock…  So today we get to go into Leslie Gulch. A gravel road takes you through Leslie Gulch, and ends at the Owyhee River. All along the way there are many side canyons that drop into Leslie Gulch. We explored three of them…Slocum Creek, Timber Gulch, and Juniper Gulch. Timer Gulch was my favorite. We ascended the gulches, then explored beyond the walls to open areas with hidden pinnacles, and fun rock formations everywhere. Definitely want to go back with climbing gear. This was a full day…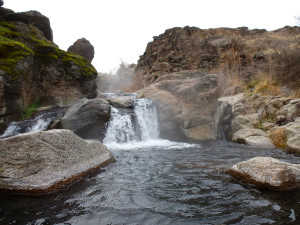 Day six, Hot Tub…  Our next adventure was to find the hot springs called Three Forks hot springs. Turned out to be a pleasant 2+ mile hike to the river crossing, which was so cold it hurt. Once across the river  it was a short scramble up to the pools. This place is incredible! The creek was literally flowing with hot water. There were two deep pools below falls of hot water. These pools overlooked the Owyhee River. It was like being at a resort, only better. We had the hot springs to ourselves. What a fun day…other than having to cross the river again…just after getting out of that nice hot water.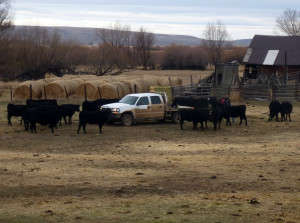 Day seven, the drive home…  Well, all good things must come to an end, especially when you've got to go back to work… Today we drive home from Jordon Valley, OR.  8-hours with a few stops.