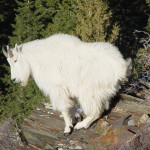 Welcome to my blog!
My name is Karl, and I live in beautiful Portland Oregon.  Portland is a gateway to all sorts of terrific adventures to be had in the Pacific NorthWest.
I enjoy rock climbing, snow and ice mountaineering, and singular sub genre of hiking known as adventure thrash.
Adventure thrash is roughly defined as seeking obscure objectives, rarely in any guidebook, often crumbly rock spires never before ascended, and almost always off trail.  Oregon has plenty of such places, and I share a few of them with you here.
I always have a camera and love taking photos of my trips.   Enjoy the images on my blog posts, as well as in Karl's Picasa Web Album gallery.
I don't really write trip reports per se, but I generally add captions on my photos that should give you a good idea of the trip.
I also have a GPS with me on almost every outing.  On the Maps and Tracks page, you'll find a listing of maps and GPS tracks you can use to find your next adventure.
My favorite GPS unit is the Garmin 60CSX.  You can read more about it here at Amazon.  If you feel nice enough to click this link and buy it from Amazon, I'll earn a small commission from the sale.  This helps me pay for website hosting and keep these maps and tracks available and free for everyone.
Please Feel free to check out my Blog Post's, and help yourself to my maps and GPS tracks…and feel free to Buy me a Beer via Paypal if you find these resources useful.
Thanks!
Karl